Contrary to what your friends' photos suggest, Instagram isn't just a social network for selfies and brunch pics. In fact, Instagram has a whopping 700 million active monthly users as of September 2017 — the last 100 million of which joined in the prior five months.
In a world where visual content remains a crucial part of any business' marketing strategy, Instagram marketing presents a unique opportunity to visually represent your brand, celebrate its personality, and keep it top-of-mind for all those users who scroll through their Instagram feeds every single day.
Although they're few and far between, there are some brands out there — in every industry, and with every type of target customer — who are doing really, really well on Instagram.
Ready to get inspired? Check out this list of brands that are thriving on Instagram right now, and what about their posts sets them apart. For each of these brands, we've included examples of their best posts. For some of them, we've also included their most popular Instagram post of all time in terms of engagement (i.e. combined total of likes and comments) thanks to data from Instagram analytics and management platform Iconosquare.
Best Brands on Instagram
Lego
Califia Farms
FollowMeTo
Lorna Jane
Letterfolk
Apartment Therapy
Paris Opera Ballet
Tentsile
Desenio
No Your City
Vans
Divinity LA Bracelets
WeWork
Finfolk Productions
Shiseido
Sephora Collections
Staples
(Psst — Want to get a stunning Instagram Story auto-magically created for your brand? Check out StoriesAds.com, a free Story generator from HubSpot and Shakr. Click here to get started.)
17 of the Best Brands on Instagram
Followers: 2.6M
If you're not following Lego on Instagram, you're missing out on some entertaining content that isn't just product plugs for kids.
The famous plastic building block brand populates its Instagram feed with fun takes on pop culture references everyone is bound to appreciate — something many businesses can learn from on their own Instagram accounts.
While most of Lego's posts do serve to announce the release of new Lego characters, the main value in its Instagram account is to emulate familiar social tropes in a classic Lego way. Some of them are pretty impressive, like the life-sized princess carriage below, celebrating the recent Royal Wedding of Prince Harry and Meghan Markle.
Of course Lego doubled down on the Royal Wedding craze with a Lego-style animation of the bride and groom, below …
Followers: 100k
Califia Farms natural beverage products have some of the most attractive packaging we've come across. In fact, it's so iconic that it won top honors in the global packaging design category from Beverage World Magazine.
Instagram is a perfect platform to showcase that cool, curvy bottle, and the folks at Califia don't shy away from doing just that — most of the brand's posts feature the beverage's containers in some way, whether they're the main subject of the photo, or more of an accessory in the context of the active, healthy lifestyle Califia's buyer personas love.
Something Califia does really well on Instagram is create fun, playful videos and GIFs. Check out this one, which they used to teach viewers how to create a veggie-based penne pasta:
And this one, which is just plain fun to watch:
Followers: 515k
Ever seen those photos of a woman leading a man by the hand in all different parts of the world? That pose was made famous by a couple named Murad and Natalia Osmann for their #FollowMeTo project.
Their Instagram account is a mix of stunning images of the classic #FollowMeTo pose that have been edited beautifully, as well as some really interesting behind-the-scenes photos of their world travels — including some fun photos of the "making of" the famous pose.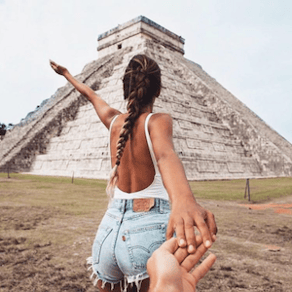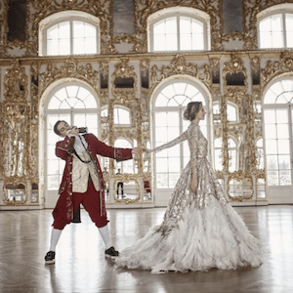 Followers: 813k
If your brand were a person, how would you describe its personality? Australian activewear company Lorna Jane has done an awesome job answering this important branding question with its Instagram content. Spend just a few seconds scrolling through these photos, and you'll quickly be able to name the target Lorna Jane buyer: a young, sporty, twenty- or thirty-something woman who values looking good while maintaining an active lifestyle.
The images posted by Lorna Jane, which often show the brand's clothing and accessories, as well as images of women who embody its target buyer persona, are colorful, playful, and inspirational, which is a perfect representation of the brand's essence — in other words, its heart, soul, and spirit.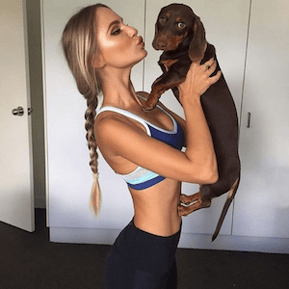 Followers: 289k
Letterfolk is a small business run by a husband-and-wife team who create and sell beautiful, handcrafted felt letterboards. Each letterboard comes with a full set of characters so people can personalize the walls of their homes, which means endless room for creativity.
Instagram is the perfect platform for them to inspire customers and aspiring customers with real customers' boards, as well as ideas they've come up with and staged themselves. Their Instagram content is funny, thought-provoking, and relatable — all recipes for shareability.
Letterfolk's Most Engaging Post
[Click here to see the post.]
Why it's engaging: Not only is this photo showing a funny and clever message, but it's also very, very relatable for parents of young children — a very large audience and also one of Letterfolk's target customers. It's also a very taggable photo, so the comment section is rife with Instagram users mentioning their friends' usernames so they can share in the fun.
Followers: 1.5M
Apartment Therapy's Instagram account really is a source of therapy, if you love the sight of cozy homes. If you've seen social media posts from Apartment Therapy before, rest assured the pictures of residences on its Instagram account are just as creative.
Two recent posts to Apartment Therapy's Instagram feed are below. From the plant-friendly living room on the left, to the comfortable A-frame on the right, this brand gives its Instagram followers plenty of inspiration to personalize their own space and, according to its Instagram bio, "live happy, healthy lives at home."
Followers: 262k
The city of Paris is known for many lovely things — wine, cheese, and art are just a few. But that last one, art, is photographically captured on the Instagram account of the Paris Opera Ballet, or Ballet de l'Opera de Paris.
The account captures candid images of the ballet's dancers during performances, rehearsals, and backstage, giving viewers an artful glimpse at what goes into the ballet's productions. It also makes use of something called banners on Instagram, when larger photos can be divided into multiple pictures to create a tiled banner of smaller photos. (There are several apps available to pull that off, but to start, check out Tile Pic).
The way this account highlights performance venues is noteworthy, too. The third photo beneath the first two below provides an intimate shot of rehearsal, conveying a gritty behind-the-scenes feel that can generate excitement for productions.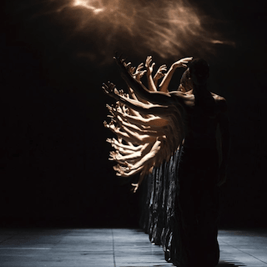 Followers: 188k
"Stunning" is the first word that comes to mind when I scroll through Tentsile's Instagram photos. The company sells tree tents, what they call "portable treehouses" that will "literally take your camping experience to a new level." Their Instagram is full of shockingly beautiful scenes of their product in use in all matter of terrain: rainforests, mountains, beaches… you name it.
Tentsile's Most Engaging Post
[Click here to see the post.]
Why it's engaging: Contests draw engagement: It's as simple as that. In this particular case, Tentsile used an Instagram contest as a co-marketing play with a few of their partners by asking followers to follow three partner accounts to be eligible to win. In addition to following those accounts, they also asked people to Like the photo and "tag your 3 best adventures buddies in the comments below." That's a great way to expand reach and do co-marketing on Instagram.
Followers: 594k
Look at the colors of any well-known brand and you'll notice that they use the same colors over and over again — in their logo, on their website, and in their social media images. Using the same colors over and over again is a great way to establish brand consistency and help consumers become familiar with your brand.
That's what the Swedish online art print company Desenio does beautifully on their Instagram account. They use a lot of blues, greens, greys, and blacks, which evoke senses of calm, healing, luxury, and trust.
Desenio's Most Engaging Post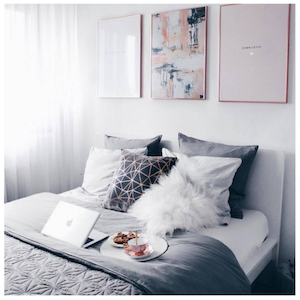 [Click here to see the post.]
Why it's engaging: At first glance, this post doesn't seem to stick out much from Desenio's other Instagram content. But what's unique about it is the universally relatable subject: a really beautiful, comfortable-looking bed in a beautiful bedroom, combined with hints of life like a laptop and some munchies.
Many of the comments included exclamations of how beautiful and inspiring the setup is and how it's the commenters' "dream bedroom." To increase your comment rate, follow Desenio's lead by posting images of things and situations your followers aspire to in their own lives.
Followers: 26k
The folks at No Your City produce a documentary series that captures the fascinating stories of people all over the world, but mostly in New York. The brand's Instagram account, though, is less about these stories and more about showcasing gorgeous images from the city itself.
What we love about these photos is how closely they follow the best practices for taking great photos with your phone. Each one of No Your City's photos seems to follow at least one of these recommendations, whether it's focusing on a single subject, embracing negative space, playing with reflections, or finding interesting perspectives. The photos are consistently stunning, and as a result, the brand has built a solid following.
Followers: 11.4M
Vans is known for its stylish shoes, but the brand's use of social media is just as stylish. Its Instagram business account is no exception.
The maker of the classic checkered slip-ons has an aggressively flashy Instagram feed, featuring both standalone product shots and action photos of people expressing themselves in their favorite Vans gear.
Vans' Instagram account's most unique quality is likely how much skateboarding content it has. The brand doesn't just appeal to teenage skaters anymore, but it shows its loyalty to that lifestyle in an engaging way. Below, Vans features an Indian girl with a caption that describes her as the "only girl who regularly skateboards in her town."
Vans' Most Engaging Post
Why it's engaging: Vans' recent video, above, teases a vague but enticing partnership with Marvel Comics. This campaign alone displayed a logo that attracted not just Vans fans, but Marvel fans who likely wanted to know when they can expect new shoes with a decal of their favorite Marvel super hero. The video received more than half a million views.
Followers: 251k
Here's an example of a small business performing very well on Instagram. A beaded bracelet could have any theme.

Divinity's Most Engaging Post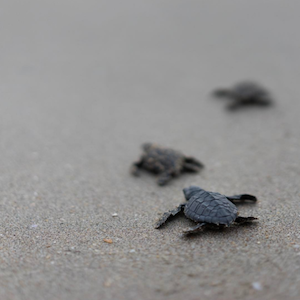 Why it's engaging: The caption reads: "Each Sea Turtle and Hatchling bracelet sold helps a Hatchling make it to the ocean." People tagged their friends to show them the cute sea turtles, or to say "WE NEED TO SAVE THEM!"
Followers: 283k
WeWork provides shared office spaces in cities and countries all over the globe — so it only makes sense that they should post a lot of photos showcasing their beautiful co-working communities. They do an amazing job photographing the spaces in ways that make followers like us wish we could jump into the photos and plop down with our laptops and a coffee.
They don't stop at posting photos of their shared workspaces, though. WeWork uses Instagram to capture and share moments from some of the largest branded events that members (and their friends) look forward to all year, like WeWork Summer Camp. Hashtags are used to label these events — like #WWCamp — and to encourage customers to share their own photos of the spaces, using WeWork's memorable slogan: "Do what you love."
Our favorite is the #DogsOfWeWork hashtag. Not only is it awesome because, well, dogs … but it's also a great way for the company to promote their laid-back culture while also inviting customers to interact with their brand on social. Near the end of each year, they actually choose the best photo submissions to the #DogsOfWeWork hashtag on Instagram and Facebook and put together a calendar for the following year.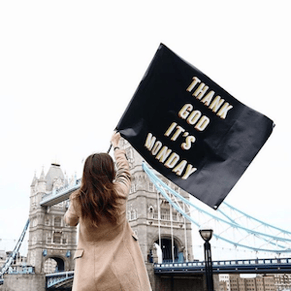 WeWork's Most Engaging Post
[Click here to see the post.]
Why it's engaging: For all their beautiful photos of people and office spaces and dogs, some of you might be surprised that their most engaging photo of all time is a picture of a simple quote. This goes to show the power of motivational quotes on Instagram, which tend to perform very well. Instagram is, after all, a platform for inspiration — and simple quotes that are inspiring and easy to digest are often welcome in a user's feed.
Use free design tools like Canva, PicMonkey, or even PowerPoint to create these images easily.
Followers: 202k
Ever wanted to be a mermaid? You can come pretty close, thanks to companies like FinFolk Productions. Believe it or not, silicone mermaid tails you can put on and swim around in are actually quite trendy in certain areas and for certain age groups — typically young girls, which is one of Instagram's core users.
Finfolk Productions' Instagram feed is full of beautifully shot photos that play into the mermaid fantasy by looking more like mythical art than real people.
Finfolk Productions' Most Engaging Post
[Click here to see the post]
Why it's engaging: One of the reasons this post was so popular is because it was accompanied by a long, heartfelt caption written by the company's founders — which prompted an outpouring of supportive comments from their loyal followers. Here's part of that caption, below:
Wish you could be part of our world? The good news is, you already are- just by being here! We might not always have custom silicone slots or Mythic tails readily available, but it's only because we are busy constantly creating and making mermaid tails for every type of mermaid, in every size or color, gender or nationality … A tail is an investment of time, money, and emotions- each one is unique and beautiful, just like you.

#finfolk #finfolkproductions #thelittlemermaid #littlemermaid #ariel #partofyourworld #mermaid #mermaidtail #disney #mermaidlife #finfolkmermaid
Commenters wrote that they love the founders for their dedication to beauty and quality, that they love the designs, and that they can't wait until they have a tail of their own. What it all comes down to, though, is brand loyalty.
Followers: 392k
Shiseido started out as Japan's first Western-style pharmacy 140 years ago and has since developed into selling high-quality brightening and anti-aging skincare, makeup, and fragrance products.
Its company mission is to inspire a life of beauty and culture — a mission they portray beautifully through their Instagram content. If you take a look at their feed, you'll notice they post three images at a time so the posts appear in a row pattern on their larger feed — a very clever and original way to organize their content.
Shiseido's Most Engaging Post
Why it's engaging: Back in late March 2016, Instagram started rolling out the ability to upload 60-second videos — and we've seen some amazing Instagram videos from brands ever since, like the one above from Shiseido. This one is much shorter than a minute, but its close-up product demo above is curiously satisfying to watch.
But don't be intimidated by highly professional Instagram videos like theirs. You can post highly engaging videos on Instagram without a huge video team or a bottomless budget. Here's a step-by-step guide for making great videos on Instagram without breaking the bank.
Followers: 322k
Sephora Collections' brand personality is playful, colorful, and feminine. It does a wonderful job of characterizing this personality in its Instagram content, using bright colors, patterns, and fun captions.
This branded Sephora account also diversifies its feed with a lot of fun Instagram video content that gives off the same playful vibes.
Sephora Collection's Most Engaging Post
Why it's engaging: No matter what channel you're creating content for, real stories of real people resonate with your audience. In the video above, Sephora is promoting the hashtag, #lipstories, which spotlights the experience of real Sephora makeup user.
Followers: 55.2k
The folks at Staples do a lot of things right when it comes to Instagram content, but there are two that particularly grab our attention — engaging with followers by asking questions and including calls-to-action in captions, and staying true to the brand's playful-yet-practical personality.
When it comes to engaging Staples' followers, it's all about asking questions in the photo captions. For example, check out the second photo below featuring a series of emojis — its caption reads, "That's pretty much our day. How about yours? Tell us in emojis." Scroll through the comments on that photo, and you'll see followers had a lot of fun responses. The caption paired with the first photo below — the one with the cupcakes — asks users to tag someone who they want to thank.
Staples does a great job staying true to brand by posting fun photos such as the "2016" shot written in office supplies and using the #OfficeHack hashtag to engage their following.
The folks at Staples also use Instagram to post cute videos and GIFs, like the one below that shows businesses how they can use Staples supplies to create a "revamped breakroom."
Ready to populate your Instagram Story with pics and videos that are as captivating as the content above? We believe in you — just download the free branding guide below and get to posting.