Facebook today unveiled the publicly searchable archive of political ads it said it would develop in April.
The launch comes alongside new labeling requirements for all election- and issue-based ads, which includes a disclosure of who paid for them.
The History of These Changes
These latest developments come after months of efforts by Facebook to emphasize its focus on election transparency — particularly after revelations were made that the platform was weaponized by foreign actors to spread misinformation and influence the 2016 U.S. presidential election.
Earlier this month, the U.S. House Permanent Select Committee on Intelligence (HPSCI) Minority released roughly 3,400 of these ads, which ran on Facebook and Instagram leading up to the 2016 elections.
They were purchased by the Russian-based Internet Research Agency (IRA), and ran between Q2 2015 and Q3 2017.
Anyone wishing to run a political or issue-based ad must also go through an authorization process that requires submitting a government-issued ID and physical mailing address to Facebook, which the company announced in October.
Facebook later took similar measures to verify any Pages with large follow numbers — it's unclear what that threshold is — in order to prevent the creation of fake accounts that are often responsible for publishing divisive ads and misinformation.
What the Ads and the Archive Look Like
Facebook's officially-named "Archive of Ads With Political Content" is a searchable database of any ads of political nature, both active and inactive.
However, the archive does not contain ads that were published prior to May 7, 2018. Any ads it contains after that date will be available for up to seven years.
Rather than serving as a library of ads that can be filtered according to a date range, topic, or sponsor, users must type in keywords to find ads pertaining to a certain subject or person.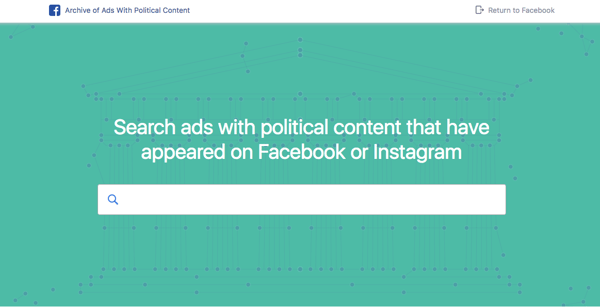 To see how it works, I started with the search term "Clinton," where I came across at least one ad that ran without a "Paid for" label, and was therefore removed by Facebook.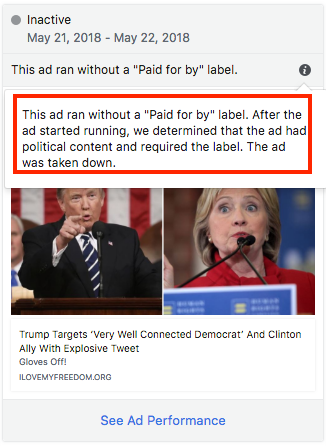 The company scans ads for political content through a combination of artificial intelligence (AI) and human intervention. In addition to the ad reviewers Facebook continues to hire, users of the site can report an unlabeled political ad, which is explained in the video below.
In addition to the content of the ad itself — its current status, the dates when it ran, and who paid for it — users can also view its performance, including the number of impressions it received, how much was spent on it, and a breakdown of the audience it reached.
An Imperfect System
Despite these efforts, many are taking issue with Facebook not providing even greater transparency. TechCrunch's Josh Constine, for example, argues that most users won't know the details of the organization that paid for an ad — such as "BOLD PAC," which paid for this ad — and that these labels should come with more information about the sponsor, its motivations, and donors (in the case of political candidates).
Facebook's new labels telling you a political ad was bought by "Prosperity Action" or "Stand Up America" doesn't immediately help. We need to know the donors and political leanings behind those. https://t.co/CwRI210Lj1

— Josh Constine (@JoshConstine) May 24, 2018
Others, according to a formal statement from Facebook, have argued that the network should rid itself of political ads altogether, saying it was "the only sure-fire way of guarding against foreign interference."
But in the end, the statement says, defining what constitutes "political" content was too difficult of a line to draw, which is why Facebook enacted these policies and practices, instead.
"Deciding what is or is not a political issue is inherently controversial, and not everyone will agree with our approach," say Facebook Director of Global Politics and Government Katie Harbath and Outreach Director Steve Satterfield. "But we believe in giving legitimate campaigns a voice — while also helping to make sure that people can find out who is trying to influence their vote and why."
But how far these new labels and requirements go to define the "why" is still up for debate. Again, the issue of a lack of information about the sponsor of an ad comes into play — especially given that Facebook rolled out a feature earlier this year to add this sort of transparency and information about news publishers.
Still, the timing makes sense. The U.S. midterm elections will take place this November, and Facebook CEO Mark Zuckerberg has faced questions about election integrity from the country's lawmakers, as well as officials in the European Union.
Henry Franco, HubSpot's social media editor, says "this is coming at a good time, with several global elections this year that could have huge implications for the political environment" — even if the efforts do fall short in some areas. "This is a good step towards increasing transparency into the world of political advertising on Facebook."